The Starline Access Zone!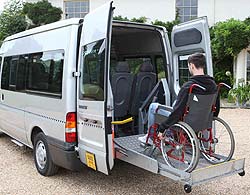 We offer a non-emergency wheelchair & Stretcher transport service working with the general public, community hospitals, social services, retirement, and nursing homes to transfer patients to where they need to be.
Our drivers undergo an intensive training programme to ensure that you will receive the very best care and attention at all times.
We operate the specially adapted versatile Ford Transits which can be prepared to carry 1 wheelchair plus 7 passengers, 2 wheelchairs plus 6 passengers or 3 wheelchairs plus 5 passengers.
Normal forward facing seats are fitted as standard and can be repositioned using a special 8 rail tracking system to maximise legroom and comfort.
All wheelchairs are secured by 4 point fixings and 3 point seatbelts to comply with latest regulations. Easy access to all seats/wheelchairs is available through the wide opening twin side doors. Wheelchair access is via electric lift or ramps.
Our new Volkswagen Caravelle stretcher vehicle has been specially adapted to carry a patient and up to 3 passengers. The patient is carried on our state of the art hydraulic stretcher which is self loading without the need for ramps or lifts.
We are also able to offer Air Ambulance services, please call or email for details.
Stretcher + 3
Starline provides a professional level of service and care for patients, clients or loved ones. The number one priority is to maintain the care and comfort of the passengers while meeting their individual needs.
• 24/7 service
• Local or Long Distance or International
• Transfers to the Doctors, hospitals or clinics
• Transfers to care, retirement or nursing homes
• Airport & Dock Transfer

• Patients requiring medical escort
• Patients who are unable to use public transport
• Corporate Clients
• Repatriation
• Air Ambulance
Starline of Chichester are pleased to offer the complete transport package including Cars, Minibuses, disabled access vehicles and Limousines for Local or Long Distance trips ~ Brighton, Portsmouth, Southampton, Bournemouth, Worthing & London Club Runs. Trips to Chichester, Bognor, Selsey, Wittering, Midhurst, Southbourne, Emsworth, Bosham, Fishbourne, Birdham, Sidlesham & Petworth Pubs & Parties. A day at Goodwood, Fontwell, Sandown, Newbury, Brighton or Epsom Races. Airport transfers to Gatwick, Heathrow, Southampton, Stanstead, and Luton & London City. Ferry transfers to Portsmouth, Dover, and Southsea Lymington & Southampton. Cruise transfers to Portsmouth, Southampton, Harwich, Liverpool, London, Tilbury, Portland & Dover. Eurostar transfers to London St Pancras or Ebbsfleet. Stations also Theatres, Prom Nights, and Children's Parties.